Click here for the PDF version
Overview
As the number of Americans relying on Medicare for health insurance grows every year, reforming the program's payment structure has become all the more important.  Like most insurance plans, Medicare relies mostly on fee-for-service payments that pay for the number of procedures without providing a direct incentive for improving the quality of care. In addition, the current Medicare formula for reimbursing physicians has been broken for over a decade—requiring regular Congressional action to prevent automatic pay cuts for physicians serving Medicare beneficiaries. This year, three Congressional committees have approved bipartisan frameworks for reform—with leaders hoping to enact reform in 2014.
Why is the Medicare reimbursement system so broken?
In 1997, Congress established the Sustainable Growth Rate (SGR) formula to restrain the steady growth in Medicare reimbursements for non-hospital physicians. The SGR was intended to force automatic cuts to physician payments to ensure total spending on these services did not exceed a specific spending target. In practice, this formula began to require large cuts to physician payments that experts feared would threaten seniors' access to their doctors.
To avoid uproar from Medicare patients and their doctors, in 2003, Congress passed the first "doc fix" legislation to override these automatic cuts, which has been followed by similar short term spending bills ever since. For years, Congress has considered avoiding the annual ritual of enacting last minute SGR fixes by permanently fixing the broken payment formula. Despite bipartisan interest in permanent reform, the cost of repealing the SGR remains a significant hurdle, with some estimates as high as $300 billion in previous years.
Why are policymakers optimistic about enacting reform?
In early December, an updated Congressional Budget Office (CBO) report set the cost of a permanent SGR fix at approximately $117 billion—almost one third less than the estimate released two years earlier. After a decade of short term fixes paid for by billions of dollars in cuts to other health care providers and hospital services, physician groups as well as other health care industry groups have urged Congress to act and take advantage of the lower level of offsetting savings policies needed to finance permanent SGR repeal. At the same time, the new lower cost of repeal is still an obstacle when Medicare cuts remain unpopular and other spending has already been constrained due to sequestration and other spending cuts.
In addition to this year's lower price tag for repeal, policymakers have also rallied around promising payment reforms that promote quality care and reduce unnecessary health care spending, both of which have proven effective in private insurance and Medicare pilot projects. In a political environment that has stymied progress on non-crisis issues, repealing the SGR formula provides lawmakers with an opportunity to simultaneously enact reforms of the Medicare fee-for-service payment system for physicians and ensure that taxpayers and the seniors dependent on the Medicare program are getting the maximum value for the extensive federal spending on health care services.
Key Facts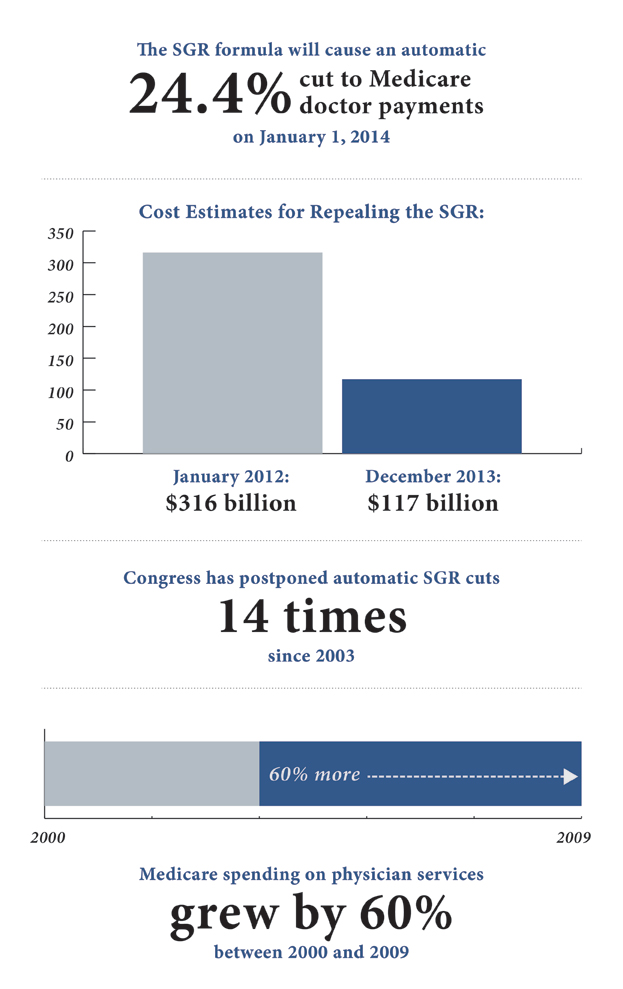 Links to Other Resources